2013 Forester M-2901 Ford E-450 Equipment: Prices and Specs
Select 2013 Forester M-2901 Ford E-450 Options
When shopping for a car, how important is vehicle performance?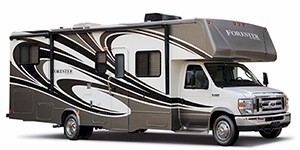 Forester Note
MOTORHOMES - Prices include air conditioner, generator, DSI water heater, power windows/door locks, ss wheel liners, electric step, heated remote exterior mirrors and spare tire.
2013 Note
LE prices include 24" flat screen tv. All other models include heated remote exterior mirrors, back up camera with monitor, GPS with iPod dock, surround sound, black tank flush, ultra leather driver/passenger seats, 32" flat side tv, 19" flat panel in bedroom, extra coach battery and deluxe woodgrain dash.
Enter mileage and select options to get a specific value OR
Mileage MAY be taken into consideration for gas engine only.
Enter Mileage:
(DO NOT use for diesel engines)
*Invalid mileage character entered!
Option note:
Only select options below that are in
addition
to standard equipment and equipment noted in the manufacturer or year notes show above. If you are uncertain of what came standard, please contact your manufacturer with your VIN.
AIR CONDITIONING AND HEATING
ENGINE AND SUSPENSION SYSTEMS
JACKS AND LEVELING SYSTEMS
MISCELLANEOUS OPTIONAL EQUIPMENT