2009 Winnebago Access Series M-24V-Ford Equipment: Prices and Specs
Select 2009 Winnebago Access Series M-24V-Ford Options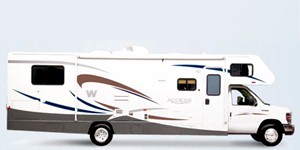 2009 Note
In addition to what is standard, destination include range with oven, video camera, front TV and refrigerator/freezer. Adventurer include exterior entertainment, water heater, video camera, home theater, microwave/convection, rearview monitor system, front/rear TV. Tour include awning, vacuum an and video camera. Journey include awning, video camera and protective mask. Vectra include awning, video and vacuum. Sightseer include awning, exterior entertainment, leveling jacks, range, roof vent and water heater. Access include exterior upgrade package, awning, range generator and TV/DVD. Slideout on Access 29T. Aspect include awning, exterior entainment and generator. Outlook include awning, exterior entertainment and TV/DVD. Vista include awning and spared tire. View includes awning and generator. Destination, Sightseer, Aspect, Access and Outlook include interior upgrade package.
Enter mileage and select options to get a specific value OR
Mileage MAY be taken into consideration for gas engine only.
Enter Mileage:
(DO NOT use for diesel engines)
*Invalid mileage character entered!
Option note:
Only select options below that are in
addition
to standard equipment and equipment noted in the manufacturer or year notes show above. If you are uncertain of what came standard, please contact your manufacturer with your VIN.
AIR CONDITIONING AND HEATING
ENGINE AND SUSPENSION SYSTEMS
JACKS AND LEVELING SYSTEMS
MISCELLANEOUS OPTIONAL EQUIPMENT