2016 Harley-Davidson VRSCDX Night Rod Special Options, Equipment, and Prices
Select 2016 Harley-Davidson VRSCDX Night Rod Special Options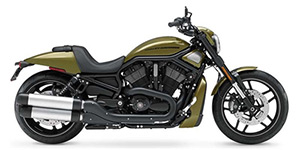 Fast Facts
Styled as a straight-line quick motorcycle, the V-Rod® is among the most uniquely designed cruisers in the 2016 Harley-Davidson lineup. The Harley-Davidson V-Rod® is presented with a drag bike aesthetic by the inclusion of a 240-millimeter rear tire and an overall low profile. The Harley-Davidson V-Rod® motorcycle's propulsion is sourced from a 1,250 cc Revolution engine. Delivering 122 horsepower, the liquid-cooled powerplant is descendent from the propulsion used for the VR1000 superbike. The 2016 V-Rod® is available with the Muscle or Night Rod Special trim package. Prominent air scoops ahead of the motorcycle's fuel tank, standard anti-lock braking system and dual exhaust featuring a Satin Chrome finish are some notable elements of the Harley-Davidson V-Rod® Muscle. The Night Rod Special version of the 2016 Harley-Davidson V-Rod® darkens much of the Muscle version's chrome resulting in a more aggressive appearance. The Harley-Davidson V-Rod® Night Rod Special also receives a slightly longer overall length thanks to a fastback tail section, lowered seat height and lighter cast aluminum performance wheels.
Harley-Davidson Note
MOTORCYCLES/ATVS/UTILITY - Due to custom features such as chrome, paint, engine modifications, and market conditions, some values may increase by as much as 10%-30%.
VINTAGE - There are 5 condition grades for Harley-Davidson. There are many options that may affect the final value on Harley-Davidson motorcycles such as multi-speed transmissions, clutch assembly, electronics,engine options, dual brakes, side cars, etc. These options will be covered in upcoming editions. As you use this price guide for pre-1920 Harley-Davidson motorcycles, please keep in mind that some values indicated are based on the limited pricing data available. These prices will be updated as more data is collected. Your comments on the Harley-Davidson motorcycle values shown are very much welcomed.
2016 Note
Reported weight includes; oil, coolant, and battery.