2014 Indian Motorcycles Chief Classic Options, Equipment, and Prices
Select 2014 Indian Motorcycles Chief Classic Options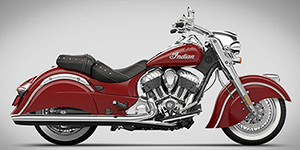 Fast Facts
Conforming to the style of old cruiser motorcycles, the 2014 Indian Chief® line are actually modern two-wheeled creations. Large fenders, lanced wheels with whitewall tires and the Indian badging are flashbacks to motorcycle construction attributes found during the late 1940s as well as the 1950s. Underneath the vintage appearance, the 2014 Indian Chief® is built on a modern aluminum frame. Riding on Dunlop American Elite tires, the 2014 Indian Chief® motorcycle line-up is supported by a highway-catered suspension system. The front and rear disc brakes of the 2014 Indian Chief® are accompanied with a standard anti-lock braking system. Providing performance to the 800-plus pound 2014 Indian Chief® motorcycle, a massive 1,819 cc displacement, electronically fuel-injected V-twin delivers 119.2 foot-pounds of torque. Premium leather seats, cruise control and a keyless ignition are some standard luxury features that will delight forward-thinking motorcycle riders of the 2014 Indian Chief® line. For 2014, the Indian Chief® is offered in cruiser-styled Classic or touring-themed Vintage trim with real leather saddlebags.
Indian Motorcycles Note
MOTORCYCLES/ATVS/UTILITY - Due to limited resale market, we are unable to determine used values.