2013 Zero Motorcycles Inc. ZERO MX ZF2.8 Options, Equipment, and Prices
Select 2013 Zero Motorcycles Inc. ZERO MX ZF2.8 Options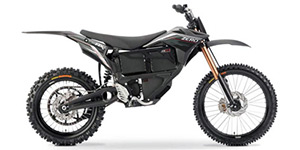 Fast Facts
Featuring a lightweight design and aggressive design, the 2013 Zero MX™ is ideal for exploring near motocross limits. Constructed on a frame consisting of aircraft grade aluminum, the 2013 Zero MX™ weighs no more than 265 pounds. Riding on an adjustable suspension system, the 2013 Zero MX™ features 38-millimeter inverted front forks and a rear remote reservoir shock. Full Nissin hydraulic disc brakes provide the necessary stopping power to an 18-inch rear wheel and 21-inch front wheel. Located centrally on the 2013 Zero MX™ is the battery storage compartment allowing one or two lithium-ion batteries to be installed on the motorcycle. A 2.8-kWh and 5.7 kWh Z-Force lithium-ion battery configuration is available on the 2013 Zero MX™. For propulsion, the 2013 Zero MX™ is fitted with a 54-horsepower Z-Force motor. Maximum speed for the 2013 Zero MX™ is 85 miles per hour. With the Zero MX™ ZF2.8 model, the electric motorcycle can allow a rider to enjoy up to 70 minutes on a dirt trail. Riding time on the 2013 Zero MX™ ZF5.8 expands to a maximum of 140 minutes. With a CHAdeMO quick charge system, the 2013 Zero MX™ can be fully charged in just 1.5 hours.
Zero Motorcycles Inc. Note
MOTORCYCLES/ATVS/UTILITY - Due to limited resale market, we are unable to determine used sales. These are electric products.