2013 Zero Motorcycles Inc. ZERO FX ZF2.8 Options, Equipment, and Prices
Select 2013 Zero Motorcycles Inc. ZERO FX ZF2.8 Options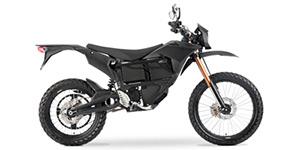 Fast Facts
Described by the electric motorcycle builder as "the fastest accelerating Zero ever", the 2013 Zero FX™ utilizes a lightweight composition and a small but powerful 44-horsepower to furnish a fun, performance ride. Constructed around an aircraft grade aluminum frame, there are two integrated power pack slots on the 2013 Zero FX™. Featuring an adjustable suspension system, the 2013 Zero FX™ rides on 38-millimeter inverted forks on the front and a remote reservoir shock on the rear. Nissin hydraulic disc brakes are found at the front and rear of the Zero FX™ for solid on-road or off-road stopping. Off-road prowess with the 2013 Zero FX™ is made obvious by wheel travel of 9.44 inches at the front and 8.94 inches at the rear. A 2013 Zero FX™ ZF2.8 and a FX™ ZF5.7 provide different levels of Z-Force Lithium-ion battery power. Delivering a maximum city range of 35 miles, the 2013 Zero FX™ ZF2.8 motorcycle's 2.8 kWh can be fully charged in as little as 1.5 hours through a CHAdeMO accessory. A higher capacity 5.7 kWh power pack on the 2013 Zero FX™ ZF5.7 extends the riding distance up to 70 miles. The 2013 Zero FX™ electric motorcycle boasts instant torque of 70 foot-pounds supplying the sensational acceleration up to a 95-mile per hour top speed.
Zero Motorcycles Inc. Note
MOTORCYCLES/ATVS/UTILITY - Due to limited resale market, we are unable to determine used sales. These are electric products.