2013 Yamaha YZ450FDL Team Yamaha Options, Equipment, and Prices
Select 2013 Yamaha YZ450FDL Team Yamaha Options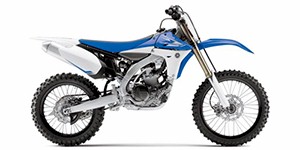 Fast Facts
Presented for the motocross crowd, the 2013 Yamaha YZ product line-up covers the requirement of various rider types. Five models of the 2013 Yamaha YZ strides to provide a competitive edge to racing riders. The entry-level motocross bike is the 2013 Yamaha YZ85. Powered by a two-stroke, 85 cc engine, the 2013 Yamaha YZ85 is matched with a close-ratio six-speed gearbox. Designed around easy maintenance, the 2013 Yamaha YZ85 boasts impressive handling potential with a front KYB inverted cartridge allowing for 10.8 inches of wheel travel and a rear suspension permitting 11.1 inches of travel. The 2013 Yamaha YZ125 is the next transition following the YZ85. Built on an aluminum frame, the 2013 Yamaha YZ125 operates with a 124 cc powerplant. Increased suspension travel with the 2013 Yamaha YZ125 supplies the rider with 11.8 inches at the front and 12.4 inches at the rear. For progressing riders, the 2013 Yamaha YZ250 provides the strong power of a 249 cc engine. The smaller of two four-stroke engined motocross products in the YZ line-up, the 2013 Yamaha YZ250F features a high-revving 250 cc liquid-cooled engine. The 2013 Yamaha YZ250F also makes use of a Bilateral Beam frame engineered to provide better cornering stability. For superior power in the motocross bike line-up, the 2013 Yamaha YZ450F features a fuel-injected 449 cc engine. Dunlop Geomax tires and a high capacity KYB suspension are also found on the 2013 Yamaha YZ450F. All 2013 Yamaha YZ models feature the Team Yamaha Blue/White paint scheme. The four-stroke models also add the optional choice of a White/Red color combination.
Yamaha Note
VINTAGE - 1954 - 1960 Due to the rarity of these years and models of Yamaha, pricing data is still being collected.
2013 Note
In 2013 only wet weight was reported.