2013 Yamaha YFM7FGPSED Grizzly Special Edition (Electronic Power Steering) Options, Equipment, and Prices
Select 2013 Yamaha YFM7FGPSED Grizzly Special Edition (Electronic Power Steering) Options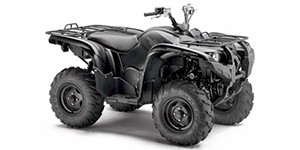 Fast Facts
Encompassing an assortment of utility all-terrain vehicles, the 2013 Yamaha Grizzly line promotes a work duty ambition. Six engine sizes for the 2013 Yamaha Grizzly ATV line-up cater to a wide market segment. All 2013 Yamaha Grizzly products utilize an automatic transmission in order to insure easy operation. Available only in Hunter Green, the entry-level 2013 Yamaha Grizzly 125 is a two-wheel drive machine propelled by a 124 cc four-stroke engine. Electric start and steel cargo racks are features included on the 2013 Yamaha Grizzly 125 for the delight of riders. A larger two-wheel drive ATV is presented with the 2103 Yamaha Grizzly 300. As well as upgrading to a 287 cc engine, the 2013 Yamaha Grizzly 300 adds a more capable suspension and full disc braking. Four-wheel drive capability is introduced to the model line-up with the 2013 Yamaha Grizzly 350 4X4. Offered in four exterior color options, the 2013 Yamaha Grizzly 350 4X4 uses a 348 cc engine to turn aggressive tires operating on 12-inch wheels. For greater four-wheel drive power, the 2013 Yamaha Grizzly 450 is fitted with a 421 cc engine and a competent drivetrain featuring a 3-way locking differential. Fitted with fuel-injected engines, the 2013 Yamaha Grizzly 550 FI and the top of the line Grizzly 700 FI provide maximum trail capabilities. A special edition Tactical Black version of the 2013 Yamaha Grizzly 700 FI features aluminum wheels and unique graphics. Recognized as one of the most ATVs to offer electric power steering, the 2013 Yamaha Grizzly presents the feature on the Grizzly 450, 550 FI and the 700 FI models.
Yamaha Note
VINTAGE - 1954 - 1960 Due to the rarity of these years and models of Yamaha, pricing data is still being collected.
2013 Note
In 2013 only wet weight was reported.