2013 Yamaha VK10DG Viking Professional Options, Equipment, and Prices
Select 2013 Yamaha VK10DG Viking Professional Options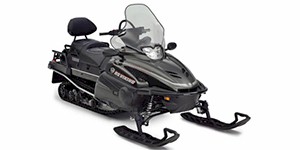 Fast Facts
A work-capable snowmobile built around utility, the 2013 Yamaha RS Viking snow sled has impressive cargo capacity and as well as two-passenger accommodations. Painted Dark Green Metallic, the 2013 Yamaha RS Viking is constructed on a Deltabox chassis. A four-stroke, 973 cc three-cylinder engine fed by a three-carburetor setup, propels the 2013 Yamaha RS Viking. For 2013, several improvements have been made to the Yamaha RS Viking. At the front, wide blow-molded plastic skis are designed to provide better floatation on snow. In the rear portion of the 2013 Yamaha RS Viking, a Dual Shock rear suspension system and a 20-inch wide, 156-inch long Camoplast Ripsaw track is now standard equipment. A cargo rack constructed using a tubular design has also been added to the 2013 Yamaha RS Viking. The 2013 Yamaha RS Viking is available only in the Professional trim level. As well as featuring cargo storage on the new tubular rack and a sizable under-seat storage, the 2013 Yamaha RS Viking Professional is offered with a standard towing hitch.
Yamaha Note
VINTAGE - 1954 - 1960 Due to the rarity of these years and models of Yamaha, pricing data is still being collected.
2013 Note
In 2013 only wet weight was reported.