2013 Yamaha TT-R230D Options, Equipment, and Prices
Select 2013 Yamaha TT-R230D Options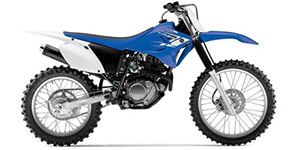 Fast Facts
Off-road motorcycles for various ages and skill levels, the 2013 Yamaha TT-R line-up delivers a high degree of recreational and sport riding excitement. For 2013, there are four trims available for the Yamaha TT-R line. Ideal for introducing older children to off-roading, the 2013 Yamaha TT-R50E provides all the essentials for hitting trails. Powered by an air-cooled 49 cc four-stroke engine, the 2013 Yamaha TT-R50E includes a 3-speed automatic transmission and an electric start paired with a secure key ignition. For older and more advanced riders, the 2013 Yamaha TT-R110E supplies greater capability than the TT-R50E. Featuring increased wheel travel and a four-speed transmission, the 2013 Yamaha TT-R110E is propelled by a 110 cc powerplant. Suitable for teens and even adults, the 2013 Yamaha TT-R125LE is powered by a 124 cc engine connected to a five-speed gearbox. The 2013 Yamaha TT-R125LE's larger engine is coupled with a more capable suspension system offering up to 7.1 inches of front wheel travel. At the top end of the off-road motorcycle line, the 2013 Yamaha TT-R230 boasts the maximum capabilities. In addition to an air-cooled 223 cc engine, the 2013 Yamaha TT-R230 possesses a front telescopic fork suspension presenting up to 9.4 inches of wheel travel. All 2013 Yamaha TT-R machines are painted in a Team Yamaha Blue/White exterior coloring.
Yamaha Note
VINTAGE - 1954 - 1960 Due to the rarity of these years and models of Yamaha, pricing data is still being collected.
2013 Note
In 2013 only wet weight was reported.