2013 Yamaha SRX120DL SRX 120 Options, Equipment, and Prices
Select 2013 Yamaha SRX120DL SRX 120 Options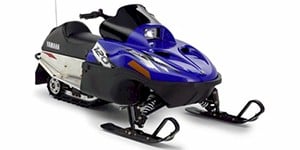 Fast Facts
A snowmobile created for youth riders, the 2013 Yamaha SRX provides the first step towards managing larger machines in the future. Appearing as close to a large-scale snowmobile as possible, the 2013 Yamaha SRX was created by the same designers behind the FX Nytro sled. Gliding across snow, front double A-arms and a rear adjustable torsion spring suspension guarantees a stable ride and predictable handling for the 2013 Yamaha SRX. Propelling the small 2013 Yamaha SRX 120 snowmobile is a 123 cc four-stroke powerplant. The clean four-stroke engine boasts excellent fuel economy and a reliable operation. For the peace of mind of parents or guardians when introducing a young rider to the snow machine, the 2013 Yamaha SRX 120 features a built-in speed governor that can restrict top speed to just eight miles per hour. Working front and rear lights as well as a tether ignition shut-off switch provide an extra layer of safety for 2013 Yamaha SRX 120 riders.
Yamaha Note
VINTAGE - 1954 - 1960 Due to the rarity of these years and models of Yamaha, pricing data is still being collected.
2013 Note
In 2013 only wet weight was reported.