2013 Yamaha RS90PLTDL Vector LTX (Blue) Options, Equipment, and Prices
Select 2013 Yamaha RS90PLTDL Vector LTX (Blue) Options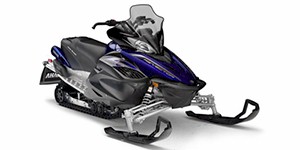 Fast Facts
Focused on being a reliable yet capable line of snowmobiles, the 2013 Yamaha RS has a broad range of sleds suited for utility or general trail riding. The 2013 Yamaha RS Vector and RS Vector LTX are single-seat snow machines powered by a fuel-injected, thee-cylinder 1,049 cc engine. The 2013 Yamaha RS Vector features a 121-inch Camoplast Ripsaw track while the RS Vector LTX is equipped with a longer 136-inch track. For 2013, the Yamaha RS Vector is considerably upgraded over the previous model. The biggest addition to the 2013 Yamaha RS Vector is an electric power steering system set to make low speed turning more effortless. Major changes to the 2013 Yamaha RS Vector performed to the ride mechanics now features front 40-millimeter HPG aluminum shocks and a Mono Shock II CK rear suspension. A new windshield, trail skis derived from the Apex and an oil pressure sensing system also appear on the 2013 Yamaha RS Vector models for the first time. Conveniences such as a dual DC outlet and hand warmers are standard on the 2013 Yamaha RS Vector as well as the RS Vector LTX. The Yamaha RS Venture models are touring utility sleds featuring flexible 2-Up seating. Powered by a 973 cc three-cylinder engine, three carburetors feed the Yamaha RS Venture's powerplant. Compared to the 2013 Yamaha RS Vector, the RS Venture features a longer Ripsaw track. The base 2013 Yamaha RS Venture rides on 36-millimeter KYB aluminum HPG front shocks and a ProComfort rear suspension. An upgraded suspension and the 1,049 cc engine of the RS Vector are added to the 2013 Yamaha RS Venture GT. For increased traction, the 2013 Yamaha RS Venture TF features a longer 151-inch track.
Yamaha Note
VINTAGE - 1954 - 1960 Due to the rarity of these years and models of Yamaha, pricing data is still being collected.
2013 Note
In 2013 only wet weight was reported.