2013 Yamaha PW50D1 Options, Equipment, and Prices
Select 2013 Yamaha PW50D1 Options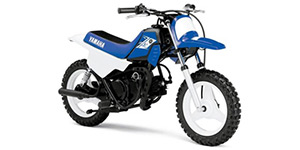 Fast Facts
A dirt bike designed youth rider, the 2013 Yamaha PW is a motorized two-wheeler meant to introduce older children to off-roading. Styled after the larger adult motocross vehicles, the 2013 Yamaha PW50 is painted with a Team Yamaha Blue/White color scheme. A telescopic fork suspension allows 2.4 inches of wheel travel at the front while a swingarm at the rear permits two inches if travel for the 2013 Yamaha PW50. Immediately handling off-road trails is 10-inch tires and mag-style wheels. An air-cooled, 49 cc two-stroke engine powers the 2013 Yamaha PW50 connected to an automatic transmission. The powertrain combination on the 2013 Yamaha PW50 is designed to provide easy maintenance and quick rider orientation to the dirt bike. In recognition of the need for young riders to gradually adapt to the power of a small motorcycle, the 2013 Yamaha PW50 offers an adjustable throttle stop screw. Thick seat cushioning with the 2013 Yamaha PW50 combined with rubber grips insure the rider will have a more pleasant beginner experience.
Yamaha Note
VINTAGE - 1954 - 1960 Due to the rarity of these years and models of Yamaha, pricing data is still being collected.
2013 Note
In 2013 only wet weight was reported.