2013 Yamaha FZ1 Options, Equipment, and Prices
Select 2013 Yamaha FZ1 Options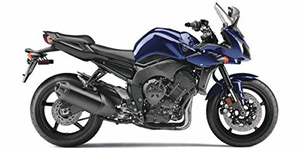 Fast Facts
The Yamaha FZ line is a selection of sport-themed motorcycles presented with an affordable price. For 2013, the Yamaha FZ line of motorcycles is offered in three distinct trims. Powered by a 600 cc liquid-cooled four-stroke engine, the 2013 Yamaha FZ6R revs with the perky response from fuel injection. Priced as an entry-level motorcycle, the 2013 Yamaha FZ6R is infused with racing inspiration. Front and rear disc braking, 17-inch wheels and a six-speed transmission on the 2013 Yamaha FZ6R serves to the sport bike market. The 2013 Yamaha FZ6R is available in a Team Yamaha Blue/White and a Pearl White color scheme. Serving as the intermediate model of the 2013 Yamaha FZ line, the FZ8 provides a balance between agility and engine performance. Propelled by a 779 cc engine, the liquid-cooled four-cylinder powerplant has peak performance planted at the high-end of the rev-range. For 2013, the Yamaha FZ8 has received a number of revisions including a new muffler shape, improved seating and rebound adjustability in the suspension. A Cobalt Blue-colored motorcycle, the top-performing 2013 Yamaha FZ1 is powered by a 998 cc four-cylinder powerplant. All 2013 Yamaha FZ motorcycles offer the capacity for a rider and passenger.
Yamaha Note
VINTAGE - 1954 - 1960 Due to the rarity of these years and models of Yamaha, pricing data is still being collected.
2013 Note
In 2013 only wet weight was reported.