2013 Yamaha FX10XT75DL Nytro XTX FX (Blue) Options, Equipment, and Prices
Select 2013 Yamaha FX10XT75DL Nytro XTX FX (Blue) Options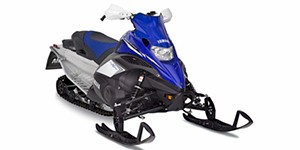 Fast Facts
The 2013 Yamaha FX Nytro snowmobile line is a versatile assortment of single-seater sleds. Featuring models suited for on-trail, off-trail and mountain riding, the 2013 Yamaha FX Nytro promotes itself as high performance snowmobiles. All 2013 Yamaha FX Nytro models share a high-powered four-stroke engine. A 1,049 cc three-cylinder powerplant, the engine of the 2013 Yamaha FX Nytro line includes fuel injection and the Engine Braking Reduction System. On the base 2013 Yamaha FX Nytro model, engine momentum is delivered to the ground through a new 121-inch Camoplast Ripsaw II track. The overall ride also received a massive upgrade on the 2013 Yamaha FX Nytro base model with HPG front shocks, Tuner dual-keel skis and a Dual Shock rear suspension. Designed to handle rougher trails, the 2013 Yamaha FX Nytro RTX model is equipped with Fox FLOAT X front shocks and a Dual Shock Pro 46 rear suspension featuring a three-way clicker. Employing a 144-inch long, 1.25-inch thick Camoplast Ripsaw track, the 2013 Yamaha FX Nytro XTX can also be ordered with a new, thicker 1.75-inch Back Country track. Configured to attack snow-covered mountains, the 2013 Yamaha FX Nytro MTX 153 rides on Fox FLOAT 2 front shocks, Camoplast Maverick track and ProMountain Air 153 rear suspension. A longer track 2013 Yamaha FX Nytro MTX 162 is equipped with a Camoplast Ascent track offering a greater grip on snow.
Yamaha Note
VINTAGE - 1954 - 1960 Due to the rarity of these years and models of Yamaha, pricing data is still being collected.
2013 Note
In 2013 only wet weight was reported.