2013 Yamaha FJR13SDL/C Options, Equipment, and Prices
Select 2013 Yamaha FJR13SDL/C Options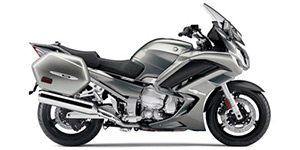 Fast Facts
Radically updated for 2013, the Yamaha FJR1300A motorcycle delivers aggressive performance and style. Reworked bodywork on the 2013 Yamaha FJR1300A incorporates an improved upper and under cowl for better wind protection. Adjustment mechanisms are found for the cowl and windshield of the 2013 Yamaha FJR1300A so the rider can tailor for comfort. A new front fork suspension and rear shock damping and spring rate on the 2013 Yamaha FJR1300A is configured to offer steady handling even when operated under maximum load. A traction control system and the rider-selectable Yamaha D-Mode system add additional control to the 2013 Yamaha FJR1300A. Powering the 2013 Yamaha FJR1300A is a 1298 cc, inline four-cylinder. The powerful 2013 Yamaha FJR1300A's powerplant comprises of advanced fuel injection and a lightweight design greater efficiency. The engine of the 2013 Yamaha FJR1300A now conforms to a liner-less cylinder design allowing for improved heat dissipation. A four-into-one-into-two stainless-steel exhaust system allows the 2013 Yamaha FJR1300A to expel gases in a method that promotes prime performance. A motorcycle accommodating two passengers, the 2013 Yamaha FJR1300A offers a new suede-look seat. Seats and handlebars can be adjusted for better riding ergonomics. Cruise control and a glove box compartment containing a 12-volt power outlet are additional amenities found on the 2013 Yamaha FJR1300A.
Yamaha Note
VINTAGE - 1954 - 1960 Due to the rarity of these years and models of Yamaha, pricing data is still being collected.
2013 Note
In 2013 only wet weight was reported.