2013 Vespa S50 Options, Equipment, and Prices
Select 2013 Vespa S50 Options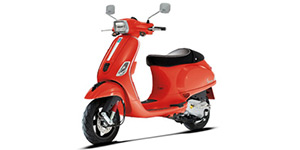 Fast Facts
A spunky, retro motor scooter, the 2013 Vespa S delivers economical commuting in the city. Featuring a sheet metal with welded reinforcement, the 2013 Vespa S is noted for its rectangular headlamp. New on the 2013 Vespa S is a black framed sport dashboard and a refreshed grille cover. Two powerplant choices are presented with the 2013 Vespa S motor scooter. A carbureted 49.4 cc engine powers the smaller 2013 Vespa S 50 4V model. Capable of speed up to 39 miles per hour, the 2013 Vespa S 50 4V is highly-fuel efficient. Fuel economy for the 2013 Vespa S 50 4V is estimated between 85 and 90 miles per gallon. Featuring a fuel-injected, single-cylinder 150 cc engine, the 2013 Vespa LXV 150 i.e. delivers less fuel efficiency but an be ridden up to 59 miles per hour. Providing a new, unique brand of excitement in the economical motor scooter, the 2013 Vespa S model is available in Sport SE models. Projecting a sportier theme on the vehicle, the 2013 Vespa S Sport SE scooters will be painted Satin Black and be adorned by a checkered flag detail. The special edition trim for the 2013 Vespa S is available in both the S 50 4V and the 150 i.e. models.
Vespa Note
MOTORCYCLES/ATVS/UTILITY - Did not import in 2000. Year on registration denotes model year.
VINTAGE - Pricing information not available at time of printing (see auction results section). 1984 & 1985 Models are not available.