2013 Vespa LX150 IE Options, Equipment, and Prices
Select 2013 Vespa LX150 IE Options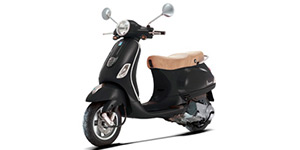 Fast Facts
Ideal for city commuting, the 2013 Vespa LX motor scooter presents modern vehicle conveniences within a classic design. Built on a sheet metal structure, the 2013 Vespa LX rides on a suspension system consisting of a single sided trailing link on the front and hydraulic shock absorbers. A rider and a passenger can comfortably commute around town on the 2013 Vespa LX motor scooter. Two powerplant choices are offered on the 2013 Vespa LX line-up. The less-expensive 2013 Vespa LX 50 4V model is propelled by an air-cooled, 49.4 cc four-stroke engine. With a top speed of 39 miles per hour, the 2013 Vespa LX 50 4V can achieve fuel efficiency up to 90 miles per gallon. Also featuring an air-cooled powerplant, the 2013 Vespa LX 150 i.e. provides more potent performance through the aid of port injection. Less fuel-efficient than the LX 50 4V model, the 2013 Vespa 150 i.e. can be ridden up to 59 miles per hour. A rainbow of up to five exterior color choices are available on 2013 Vespa LX models. Chrome rear rack, backrest pads and a topbox are optional accessories for the 2013 Vespa LX allowing a rider to customize their scooter.
Vespa Note
MOTORCYCLES/ATVS/UTILITY - Did not import in 2000. Year on registration denotes model year.
VINTAGE - Pricing information not available at time of printing (see auction results section). 1984 & 1985 Models are not available.