2013 Vespa GTS300 IE Options, Equipment, and Prices
Select 2013 Vespa GTS300 IE Options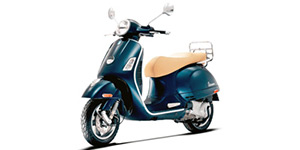 Fast Facts
The 2013 Vespa GTS line-up offers the ideal motor scooter for riders who want top speed performance and fuel efficient commuting. Constructed with a sheet metal body, the two-passenger 2013 Vespa GTS features a simple, classic scooter look. Riding on tires supported by 12-inch wheels, a full-disc braking on the 2013 Vespa GTS models assures prompt, consistent stops. Propulsion for the 2013 Vespa GTS is derived from a liquid-cooled, 278 cc four-stroke Quasar engine. Generating 21.1 horsepower, the 2013 Vespa GTS models are capable of an 80-mile per hour top speed. In addition to solid performance for street and highway riding, fuel economy for the 2013 Vespa GTS is calculated up to 70 miles per gallon. Offered in Midnight Blue or Bronze exterior coloring, the 2013 Vespa GTS 300 i.e. model features a chrome storage rack for convenience. Available in Dragon Red or Montebianco White, the 2013 Vespa GTS 300 i.e. Super model provides a sportier inspiration on the scooter. Also available is the 2013 Vespa GTS 300 i.e. Super SE accented in a satin black paint finish.
Vespa Note
MOTORCYCLES/ATVS/UTILITY - Did not import in 2000. Year on registration denotes model year.
VINTAGE - Pricing information not available at time of printing (see auction results section). 1984 & 1985 Models are not available.