2013 Suzuki TU250XL3 Options, Equipment, and Prices
Select 2013 Suzuki TU250XL3 Options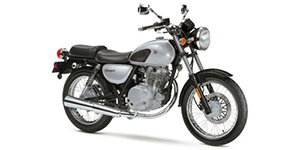 Fast Facts
The 2013 Suzuki TU is a low-cost motorcycle presenting a great value to riders. The new Metallic Mystic Silver/Glass Sparkle Black paint scheme of the 2013 Suzuki TU combines with chrome plating for a classic two-wheeled look. Constructed on a diamond-shaped steel tube frame, the compact structure provides the motorcycle with impressive handling. Performance for the 2013 Suzuki TU250X is derived from a single-cylinder, 249 cc air-cooled engine. Featuring advanced engine technology such as a Dual Throttle Valve fuel injection system and special cylinder plating, the powerplant on the 2013 Suzuki TU250X delivers potent performance for its compact size. A five-speed transmission allows the rider to properly manage the 2013 Suzuki TU250X engine power. A 30.3-inch seat height incorporated on the 2013 Suzuki TU250X motorcycle enables near-effortless mounting and dismounting by riders. Seating allows up to two occupants to travel on-board the 2013 Suzuki TU250X motorcycle.
Suzuki Note
VINTAGE - 1937 - 1969 Due to the rarity of these years and models of Suzuki, pricing data is still being collected.
2013 Note
In 2013 only curb weight was reported.