2013 Suzuki LT-F250L3 Ozark Options, Equipment, and Prices
Select 2013 Suzuki LT-F250L3 Ozark Options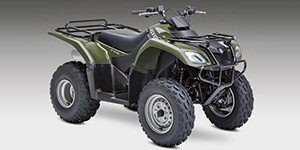 Fast Facts
An affordable, lightweight ATV, the 2013 Suzuki Ozark supplies users with sport and utility. Weighing 428 pounds, the 2013 Suzuki Ozark features an aesthetic design similar to larger, heavier ATVs. Dual halogen headlights, front and rear cargo as well as a four-liter underseat storage compartment grants the 2013 Suzuki Ozark impressive utility capabilities. Riding on front A-arm and a rear swingarm type setup, the suspension for the 2013 Suzuki Ozark allows efficient travel with the aid of 8.3 inches of ground clearance. Power for the two-wheel drive 2013 Suzuki Ozark is derived from a 246 cc carbureted, air-cooled engine. Connected to a five-speed transmission with an automatic clutch, the 2013 Suzuki Ozark engine delivers effective power to the drive wheels. The 2013 Suzuki Ozark can be ordered in Terra Green or Flame Red.
Suzuki Note
VINTAGE - 1937 - 1969 Due to the rarity of these years and models of Suzuki, pricing data is still being collected.
2013 Note
In 2013 only curb weight was reported.