2013 Suzuki GSX-R1000ZL3 Special Edition Options, Equipment, and Prices
Select 2013 Suzuki GSX-R1000ZL3 Special Edition Options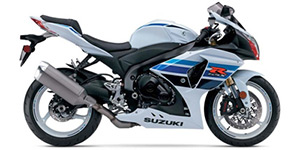 Fast Facts
Built for racing in production motorcycle classes, the 2013 Suzuki GSX-R sportbike caters to performance seekers on roadways since 1985. Through motorsports development, the 2013 Suzuki GSX-R line of motorcycles are light and agile. Sharing a twin-spar aluminum cradle frame, the 2013 Suzuki GSX-R line-up features three engine choices. Fitted with a 599 cc four-cylinder powerplant, the 2013 2013 Suzuki GSX-R600 features the influence of the brand's Dual Throttle Valve fuel injection system and a MotoGP-derived transistorized ignition control. Channeled through a six-speed constant mesh gearbox, front and rear disc brakes will bring the motorcycle to a stop. Suzuki Drive Mode Selector controls the rider of the GSX-R600 to select from two engine control maps. A mid-range model, the 2013 Suzuki GSX-R750 is propelled by a dual overhead cam 750 cc four-cylinder engine. To claim top performance, the 2013 Suzuki GSX-R1000 motorcycle makes a massive impact thanks to its 999 cc engine. In recognition for passing a major production milestone, a special Suzuki GSX-R1000 1 Million Commemorative Edition has been released. Wearing special graphics and colors, Suzuki will manufacture 1,985 examples of the GSX-R1000 1 Million Commemorative Edition for the entire world.
Suzuki Note
VINTAGE - 1937 - 1969 Due to the rarity of these years and models of Suzuki, pricing data is still being collected.
2013 Note
In 2013 only curb weight was reported.