2013 Suzuki DR650SEL3 Options, Equipment, and Prices
Select 2013 Suzuki DR650SEL3 Options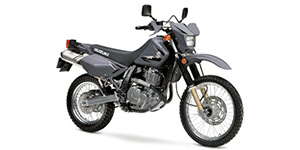 Fast Facts
Classified under the category of a DualSport machine, the 2013 Suzuki DR model of motorcycle presents the capacity for street or off-road riding. Assembled on a semi-double-cradle steel pip frame chassis, the 2013 Suzuki DR offers simple but enjoyable travel for up to two occupants. A motorcycle meant to be user-friendly, the 2013 Suzuki DR includes an electric start and an overall mechanical design requiring low maintenance. Divided into two trim levels, the 2013 Suzuki DR features power from one of two carbureted air-cooled engines. Wearing a Solid Special White paint color, the 2013 Suzuki DR200SE model is propelled by a 199 cc overhead cam powerplant featuring efficient four-cycle operation. A 644 cc four-stroke engine powers the 2013 Suzuki DR650SE model. Featuring body panels painted Solid Iron Gray, operators of the 2013 Suzuki DR650SE can appreciate the stopping power of full disc braking. Presenting the substantial suspension needed for off-roading, the 2013 Suzuki DR200SE offers up to 8.1 inches of travel while the DR650SE model allows up to 10.2 inches of travel.
Suzuki Note
VINTAGE - 1937 - 1969 Due to the rarity of these years and models of Suzuki, pricing data is still being collected.
2013 Note
In 2013 only curb weight was reported.