2013 Suzuki DR-Z400SML3 Options, Equipment, and Prices
Select 2013 Suzuki DR-Z400SML3 Options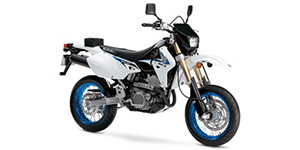 Fast Facts
A dirt bike with all the rewarding attributes of a street legal motorcycle, the 2013 Suzuki DR-Z 400SM is suited for a wide variety of adventures. Categorized a SuperMoto, the 2013 Suzuki DR-Z 400SM comprises of lightweight yet durable components. Built on a chrome-moly steel frame with an aluminum subframe, the 2013 Suzuki DR-Z 400SM structure contributes to a motorcycle weighing just 321 pounds. A Showa inverted front fork suspension and a fully adjustable rear shock absorber provides a formidable ride for on-road and off-road travel. Full disc braking can forcefully bring the 17-inch RK aluminum wheels on the 2013 Suzuki DR-Z 400SM to a quick stop. Propelled through a 398cc four-stroke engine, the single-cylinder powerplant for the 2013 Suzuki DR-Z 400SM features the performance benefits of liquid cooling. A magnesium valve cover, clutch cover and magneto cover are addition weight-saving touches on the 2013 Suzuki DR-Z 400SM. A five-speed constant mesh transmission handles engine power. Black and white body panel coloring distinguishes all 2013 Suzuki DR-Z 400SM motorcycles.
Suzuki Note
VINTAGE - 1937 - 1969 Due to the rarity of these years and models of Suzuki, pricing data is still being collected.
2013 Note
In 2013 only curb weight was reported.