2013 Suzuki DR-Z400SL3 Options, Equipment, and Prices
Select 2013 Suzuki DR-Z400SL3 Options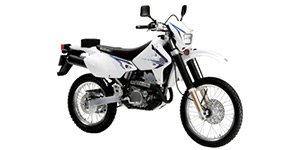 Fast Facts
The 2013 Suzuki DR-Z 400S combines the fun of a dirt bike with the versatility of a street legal motorcycle. Classified as a dual-purpose motorcycle, the 2013 Suzuki DR-Z 400S has a tough structure combining chrome-moly steel tubes with a bolt-on aluminum sub frame. Resulting in a light but durable two-wheeled vehicle, the frame of the 2013 Suzuki DR-Z 400S incorporates a dry sump oiling system. The 2013 Suzuki DR-Z 400S is powered by a 398 cc four-stroke, liquid-cooled engine configured to provide power at a low RPM range. A digitally mapped ignition system and Mikuni carburetor insure consistent power deliver from the 2013 Suzuki DR-Z 400S' engine. A five-speed constant mesh transmission channels the engine power towards the rear tire. A suspension system consisting of a 49-millimeter cartridge-style fork and an adjustable rear shock connected to an aluminum swingarm offers over 11 inches of travel for effective off-roading performance. Wheels on the 2013 Suzuki DR-Z 400S consist of 21-inch at the front and 18-inch at the rear supported by full disc brakes. An electric starter, small digital instrument cluster and a small pouch on the rear fender complete the highlighted equipment on the 2013 Suzuki DR-Z 400S.
Suzuki Note
VINTAGE - 1937 - 1969 Due to the rarity of these years and models of Suzuki, pricing data is still being collected.
2013 Note
In 2013 only curb weight was reported.