2013 Polaris Ranger RZR 570 Options, Equipment, and Prices
Select 2013 Polaris Ranger RZR 570 Options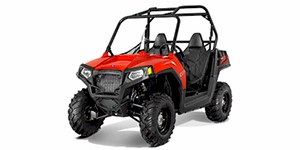 Fast Facts
An assorted line-up of sport-oriented utility vehicles, the 2013 Polaris RZR® line are ideally suited for riders with varying skill levels. For operators 12 or older, the 2013 Polaris RZR® 170 is one of the only utility vehicles built for the youth market. Featuring a 169 cc four-stroke engine, the two-wheel drive 2013 Polaris RZR® 170 is equipped with some exceptional found on larger machines including four-wheel disc brakes and an electric start. An instructional DVD, helmets and a safety flag are extra precautions added to the standard features of the 2013 Polaris RZR® 170 model. For adult riders, the 2013 Polaris RZR® 570 is a four-wheel drive machine for serious sport riders. Featuring up to 10 inches of ground clearance, the 567 cc engine's performance for the 2013 Polaris RZR® 570 is transferred through a lightweight automatic transmission. The 2013 Polaris RZR® 570 boasts speedy acceleration from 0 to 35 miles per hour in only four seconds. A special edition 2013 Polaris RZR® EPS Trail LE adds electronic power steering, engine braking system and a dry-storage box. The top-line 2013 Polaris RZR® 800 utility vehicle roams with a 760 cc High Output engine. For 2013, the Polaris RZR® 800 receives dual-rate suspension springs for greater weight handling. Four limited edition models of the 2013 Polaris RZR® is available including the RZR® 800 EPS Blue Fire LE fitted with electronic power steering.
Polaris Note
MOTORCYCLES/ATVS/UTILITY - For further information on victory, see listing under victory motorcycles.
SNOWMOBILES - Manufacturer will not release missing weight information. Contact manufacturer for weight specifications.
PERSONAL WATERCRAFT - No longer in production.