2013 Honda VTX13CSD Sabre Options, Equipment, and Prices
Select 2013 Honda VTX13CSD Sabre Options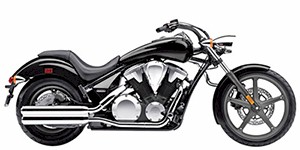 Fast Facts
Styled in the image of a pro street dragster or a classic cruiser motorcycle, the 2013 Honda Sabre® is designed as a fusion between performance and comfort. Color-matching frame, stylish fenders and low-profile tires on five-spoke cast wheels are aesthetic traits defining the muscular-looking 2013 Honda Sabre®. Propelled by a 1,312 cc, liquid-cooled V-Twin engine, programmed fuel injection and dual spark plug per cylinder combustion insures strong, smooth performance. A five-speed transmission channels engine power towards the 2013 Honda Sabre® wide rear tires through a quiet final drive shaft. Standard stopping power of front and rear disc brakes can be enhanced with optional anti-lock brakes. A wide-range of components under the Honda Genuine Accessories banner enhances style and storage of the 2013 Honda Sabre®. A digital audio system can also be added to 2013 Honda Sabre® for a rich cruising experience.
Honda Note
VINTAGE - 1948-1958 Due to the rarity of these years and models of Honda, pricing data is still being collected.
PERSONAL WATERCRAFT - No longer in production.
2013 Note
All Goldwing prices include premium audio pkg, comfort pkg, and TPMS.
In 2013 only curb weight was reported.