2013 Honda VT13CXAD Fury (ABS) Options, Equipment, and Prices
Select 2013 Honda VT13CXAD Fury (ABS) Options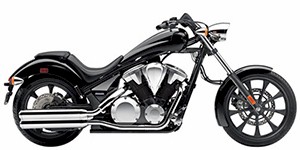 Fast Facts
Styled in the spirit of a custom motorcycle, the 2013 Honda Fury™ is a striking factory-created hot rod without the typically high price tag. Available in either black or red, he aesthetically eye-catching 2013 Honda Fury™ provides a low-seating position and a long front fork. Powered by a liquid-cooled 1312 cc engine, the 2013 Honda Fury™ powerplant is calibrated to provide impressive torque as well as a potent V-Twin sound. Programmed fuel injection and a digitally mapped ignition system bring a sense of civility to the otherwise radical motorcycle design of the 2013 Honda Fury™. Riding on 18-inch rear wheels and 21-inch front wheels, full disc braking and available anti-lock brakes deliver meaningful stopping power. Factory customization options for the 2013 Honda Fury™ opens the door for instant personalization of a motorcycle by an owner. Windshield, braided lines and cables as well as custom grips can be added to the 2013 Honda Fury™.
Honda Note
VINTAGE - 1948-1958 Due to the rarity of these years and models of Honda, pricing data is still being collected.
PERSONAL WATERCRAFT - No longer in production.
2013 Note
All Goldwing prices include premium audio pkg, comfort pkg, and TPMS.
In 2013 only curb weight was reported.