2013 Honda VT13CTAD Interstate (ABS) Options, Equipment, and Prices
Select 2013 Honda VT13CTAD Interstate (ABS) Options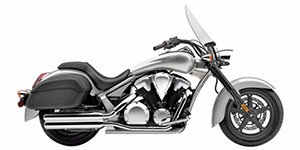 Fast Facts
A custom-style motorcycle with a taste of luxury, the 2013 Honda Interstate is a smart balance of functionality and charm. A sleek-looking two-passenger motorcycle, the 2013 Honda Interstate design incorporates a custom windshield, black-out engine compartment and a teardrop-shaped 4.4-gallon fuel tank. Standard saddlebags on the 2013 Honda Interstate offers usable storage for weekend trips. Powered by a 1,312 cc, liquid-cooled V-Twin engine, programmed fuel injection and two spark plugs per cylinder technology pushes the 2013 Honda Interstate comfortably down a highway. A dual exhaust system married with the 2013 Honda Interstate's engine is tuned to supply a classic, throaty sound. Front and rear disc brakes with optional Anti-Lock Braking System assure quick, controlled stops for the 2013 Honda Interstate. A wide selection of compartments is available for the 2013 Honda Interstate through Honda Genuine Accessories. New for 2013 is the addition of the Light Silver Metallic paint color to the Honda Interstate.
Honda Note
VINTAGE - 1948-1958 Due to the rarity of these years and models of Honda, pricing data is still being collected.
PERSONAL WATERCRAFT - No longer in production.
2013 Note
All Goldwing prices include premium audio pkg, comfort pkg, and TPMS.
In 2013 only curb weight was reported.