2013 Honda VFR12FD Options, Equipment, and Prices
Select 2013 Honda VFR12FD Options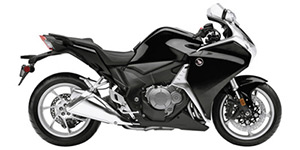 Fast Facts
Billed as a futuristic presentation of sport motorcycles, the 2013 Honda VFR line is a stylish, technology-oriented vehicle. Some of the high-tech features offered on the 2013 Honda VFR model line include traction control, throttle by wire and Pro Arm swing arm suspension system. Presented with a lightweight, sporty, inspiration from the competitive MotoGP motorcycles has gone into the functional appearance of the 2013 Honda VFR. Layered concept fairing guides air efficiently to promote better handling and maximize engine controlling. A racing inspired, 1,237 cc four-cylinder engine delivers all the performance and sound riders can expect from a sport bike. Front wheel braking of the 2013 Honda VFR is handled through six-piston calipers pressing against a sizable 320-millimeter disc. The 2013 Honda VFR motorcycle is available with a conventional manual gearbox or a dual clutch transmission that allows for speedy gearshifts.
Honda Note
VINTAGE - 1948-1958 Due to the rarity of these years and models of Honda, pricing data is still being collected.
PERSONAL WATERCRAFT - No longer in production.
2013 Note
All Goldwing prices include premium audio pkg, comfort pkg, and TPMS.
In 2013 only curb weight was reported.