2013 Honda NPS50D Ruckus Options, Equipment, and Prices
Select 2013 Honda NPS50D Ruckus Options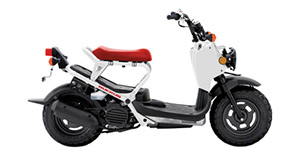 Fast Facts
An economical, agile motor scooter, the 2013 Honda Ruckus features a provocative rough and tumble image. Not conforming to the traditional appearance of a city scooter, the utilitarian look of the 2013 Honda Ruckus projects a visibly tough vehicle. A frame composed of steel and die-case aluminum construction establishes a strong backbone for the 2013 Honda Ruckus. The 2013 Honda Ruckus rides on beefy tires and features a dual headlamps setup to convey seriousness. Despite the intimidating appearance, the 2013 Honda Ruckus is centrally focused on user-friendliness. Electric starter, automatic transmission and a near effortless parking brake are all found on the 2013 Honda Ruckus. Performance to the 194-pound 2013 Ruckus is derived from a four-stroke, 49 cc single-cylinder engine. Fuel economy for the 2013 Honda Ruckus is projected at 114 miles per gallon from a 1.3-gallon tank. The 2013 Honda Ruckus can be ordered in Black or a Red/White exterior color.
Honda Note
VINTAGE - 1948-1958 Due to the rarity of these years and models of Honda, pricing data is still being collected.
PERSONAL WATERCRAFT - No longer in production.
2013 Note
All Goldwing prices include premium audio pkg, comfort pkg, and TPMS.
In 2013 only curb weight was reported.