2013 Honda NC700XD Options, Equipment, and Prices
Select 2013 Honda NC700XD Options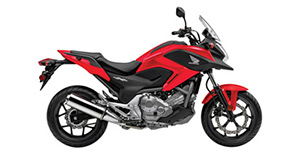 Fast Facts
Premiering in 2012, the Honda NC700X enters its second production year with much acclaim. Sporty yet highly practical, the 2013 Honda NC700X is equipped with several impressive features for a low-priced motorcycle. Full disc braking, long travel suspension and 21-liter storage compartment are standard features on the 2013 Honda NC700X. Delivering the modern advantage of fuel injection, the 2013 Honda NC700X's 670 cc two-cylinder engine is configured for useful low-to-mid torque development. Besides the affordable Honda NC700X base model, a high-tech 2013 NC700X DCT ABS motorcycle is also available for riders seeking a racier feel. A dual-clutch transmission on the 2013 Honda NC700X DCT ABS allows the rider to select manual shifting through a paddle shifter or a fully automatic mode. Anti-lock braking is also added to the 2013 Honda NC700X DCT ABS model for greater stopping control. In addition to Light Silver Metallic returning as a paint shade, Red has been added as a color option for the 2013 Honda NC700X.
Honda Note
VINTAGE - 1948-1958 Due to the rarity of these years and models of Honda, pricing data is still being collected.
PERSONAL WATERCRAFT - No longer in production.
2013 Note
All Goldwing prices include premium audio pkg, comfort pkg, and TPMS.
In 2013 only curb weight was reported.