2013 Honda CRF100FD Options, Equipment, and Prices
Select 2013 Honda CRF100FD Options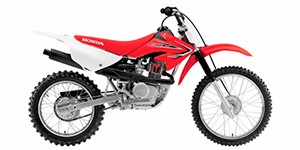 Fast Facts
A product line of trail bikes, 2013 Honda CRF® motorcycles serve a wide range of recreational or competition riders. Powered by durable four-stroke powerplants, engine displacements for 2013 Honda CRF® ranges from 49 cc to 449 cc. Smaller 2013 Honda CRF® incorporate propulsion from simple, air-cooled powerplants. The 2013 Honda CRF250X and CRF450X models are the only version of the trail bikes utilizing a liquid-cooled engine. Tailored to riders 13 years and older eager to participate in off-roading, the 2013 Honda CRF50F introduces youth operators with a lightweight and strong trail bike. The 2013 Honda CRF® line offers a suitable motorcycle as the rider progresses in size and skill. 2013 Honda CRF® trail bikes feature Showa fork suspension units on the front and Pro-Link Showa rear shock.
Honda Note
VINTAGE - 1948-1958 Due to the rarity of these years and models of Honda, pricing data is still being collected.
PERSONAL WATERCRAFT - No longer in production.
2013 Note
All Goldwing prices include premium audio pkg, comfort pkg, and TPMS.
In 2013 only curb weight was reported.