2013 Honda CMX250CD Rebel Options, Equipment, and Prices
Select 2013 Honda CMX250CD Rebel Options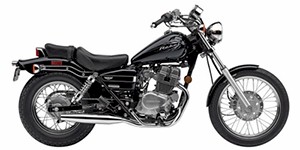 Fast Facts
The 2013 Honda Rebel® serves as an entry-level cruising motorcycle. Designed to be an inviting vehicle with classic, tasteful lines, the 2013 Honda Rebel® combines style with capable street performance. Constructed on a semi double cradle frame, the 2013 Honda Rebel® is presented with a long wheelbase and low profile for the two-piece, custom-styled seat. Chrome plating plays a major part in the aesthetics of the 2013 Honda Rebel® covering the wheel rims, exhaust and light fixtures. Featuring power from a carbureted two-cylinder, 234 cc four-stroke engine, the 2013 Honda Rebel® delivers exceptional pep. In addition to good highway performance, the 2013 Honda Rebel® powerplant fuel economy of 84 miles per gallon. New for the 2013 model year Honda Rebel® is the addition of black joining Candy Red as an available exterior color.
Honda Note
VINTAGE - 1948-1958 Due to the rarity of these years and models of Honda, pricing data is still being collected.
PERSONAL WATERCRAFT - No longer in production.
2013 Note
All Goldwing prices include premium audio pkg, comfort pkg, and TPMS.
In 2013 only curb weight was reported.