2013 Honda CB500XD Options, Equipment, and Prices
Select 2013 Honda CB500XD Options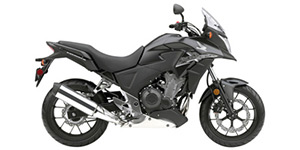 Fast Facts
The 2013 Honda CB motorcycle line-up presents models suited for beginner riders and for experienced individuals seeking a sporty two-wheeled vehicle. The 2013 Honda CB500F and CB500X models are affordably priced motorcycles powered by a 471 cc liquid-cooled engine functioning with a double overhead cam layout. The 2013 Honda CB500X is fashioned with a longer, more aggressive stance and features greater suspension travel. Making use of an air-cooled 1140 cc engine with programmed fuel injection, the 2013 Honda CB1100 is a Candy Red motorcycle that acquaints itself with city and highway riding. Anti-lock Braking System is optional on the 2013 Honda CB500F, CB500X and the CB1100 models. Powered by a 998 cc, inline four-cylinder powerplant, the 2013 Honda CB1000R is characterized as a sport-oriented motorcycle that presents hidden performance. Constructed on a die-cast aluminum frame, the 2013 Honda CB1000R enjoys an overall lightweight structure that enhances the speed and handling.
Honda Note
VINTAGE - 1948-1958 Due to the rarity of these years and models of Honda, pricing data is still being collected.
PERSONAL WATERCRAFT - No longer in production.
2013 Note
All Goldwing prices include premium audio pkg, comfort pkg, and TPMS.
In 2013 only curb weight was reported.