2013 Harley-Davidson VRSCDX Night Rod Special Options, Equipment, and Prices
Select 2013 Harley-Davidson VRSCDX Night Rod Special Options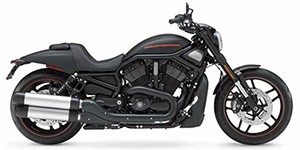 Fast Facts
Projecting an overwhelming amount of performance and aggression its design, the 2013 Harley-Davidson V-Rod® motorcycles are stylized speed demons. The 2013 Harley-Davidson V-Rod® features a streamlined look accented with a double-barrel exhaust and fat rear tires. Powered by a liquid-cooled Revolution V-Twin engine co-developed with sports car maker Porsche, the lively the 2013 Harley-Davidson V-Rod® is propelled with 125 horsepower. Two models of the Harley-Davidson V-Rod® are available for the 2013 model year. The 2013 Harley-Davidson V-Rod® Muscle coasts on black, five-spoke aluminum wheels and features an exhaust system detailed in a satin chrome finish. Slightly longer and lighter in weight than the Muscle, the 2013 Harley-Davidson V-Rod® Night Rod Special receives orange pin striping on the black aluminum wheels. Low-rise handlebars and a blacked-out appearance are also characteristics found on the 2013 Harley-Davidson V-Rod® Night Rod Special.
Harley-Davidson Note
MOTORCYCLES/ATVS/UTILITY - Due to custom features such as chrome, paint, engine modifications, and market conditions, some values may increase by as much as 10%-30%.
VINTAGE - There are 5 condition grades for Harley-Davidson. There are many options that may affect the final value on Harley-Davidson motorcycles such as multi-speed transmissions, clutch assembly, electronics,engine options, dual brakes, side cars, etc. These options will be covered in upcoming editions. As you use this price guide for pre-1920 Harley-Davidson motorcycles, please keep in mind that some values indicated are based on the limited pricing data available. These prices will be updated as more data is collected. Your comments on the Harley-Davidson motorcycle values shown are very much welcomed.
2013 Note
Reported weight includes; oil, coolant, and battery.