2013 Harley-Davidson FLHRSES CVO Anniversary Options, Equipment, and Prices
Select 2013 Harley-Davidson FLHRSES CVO Anniversary Options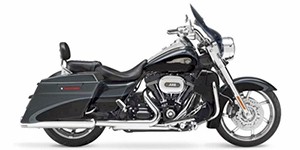 Fast Facts
A touring motorcycle line is a modern machine steep in tradition, the 2013 Harley-Davidson Road King® product line features a commanding presence on the road. Hiawatha headlamp and a six-gallon fuel tank are classic touches the 2013 Harley-Davidson Road King® revives the spirit of vehicles that came before. The 2013 Harley-Davidson Road King® base and classic models are powered by a Twin Cam 103 engine boasting impressive performance thanks to electronic fuel injection. A six-speed Cruise Drive produces controlled acceleration and cruising capabilities. Offering 2.26 cubic feet of cargo room, the base model 2013 Harley-Davidson Road King® rides on black 28-spoke cast aluminum wheels. The 2013 Harley-Davidson Road King® Classic model enjoys several upgrades including standard cruise control and Anti-lock Braking System. Presenting a Twin Cam 110 powerplant, the 2013 Harley-Davidson Road King® CVO™ trim model adds some eye-catching custom touches. A 110th Anniversary Edition of the 2013 Harley-Davidson Road King® (offered on the base and CVO™ model) presents unique add-ons. A special paint scheme and a plaque identifying the production number of an individual 2013 Harley-Davidson Road King® 110th Anniversary Edition.
Harley-Davidson Note
MOTORCYCLES/ATVS/UTILITY - Due to custom features such as chrome, paint, engine modifications, and market conditions, some values may increase by as much as 10%-30%.
VINTAGE - There are 5 condition grades for Harley-Davidson. There are many options that may affect the final value on Harley-Davidson motorcycles such as multi-speed transmissions, clutch assembly, electronics,engine options, dual brakes, side cars, etc. These options will be covered in upcoming editions. As you use this price guide for pre-1920 Harley-Davidson motorcycles, please keep in mind that some values indicated are based on the limited pricing data available. These prices will be updated as more data is collected. Your comments on the Harley-Davidson motorcycle values shown are very much welcomed.
2013 Note
Reported weight includes; oil, coolant, and battery.