2013 Harley-Davidson FLD-103 Dyna Switchback Options, Equipment, and Prices
Select 2013 Harley-Davidson FLD-103 Dyna Switchback Options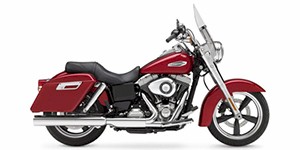 Fast Facts
The 2013 Harley-Davidson Dyna® resides as a quality, mid-level vehicle providing buyers with a high level of customization. Created as a cruising and touring motorcycle, the 2013 Harley-Davidson Dyna® product line-up is a traditional approach to two-wheeled travel. Powered through a selection of air-cooled Twin Cam engines, modern electronic fuel injection is incorporated on all 2013 Harley-Davidson Dyna®. Presenting six models choices for the 2013 model year, the 2013 Harley-Davidson Dyna® Street Bob is a bore-bones motorcycle. The Super Glide Custom version of the 2013 Harley-Davidson Dyna® adds a slightly larger fuel tank and a choice of optional chrome aluminum wheels. A larger displacement engine and a Tommy Gun 2-1-2 chrome exhaust are standard on the Wide Glide and Fat Bob 2013 Harley-Davidson Dyna® models for greater cruising prominence. Described as two bikes in one, the 2013 Harley-Davidson Dyna® Switchback version delivers a detachable windshield and saddlebags. For 2013, a 110th Anniversary Edition of the Dyna® Super Glide Custom pays tribute to Harley-Davidson with multiple styling dress-ups. The Security Package including anti-lock braking and smart security system is added as standard on the 2013 Harley-Davidson Dyna® 110th Anniversary Edition model.
Harley-Davidson Note
MOTORCYCLES/ATVS/UTILITY - Due to custom features such as chrome, paint, engine modifications, and market conditions, some values may increase by as much as 10%-30%.
VINTAGE - There are 5 condition grades for Harley-Davidson. There are many options that may affect the final value on Harley-Davidson motorcycles such as multi-speed transmissions, clutch assembly, electronics,engine options, dual brakes, side cars, etc. These options will be covered in upcoming editions. As you use this price guide for pre-1920 Harley-Davidson motorcycles, please keep in mind that some values indicated are based on the limited pricing data available. These prices will be updated as more data is collected. Your comments on the Harley-Davidson motorcycle values shown are very much welcomed.
2013 Note
Reported weight includes; oil, coolant, and battery.