2013 Can-Am Maverick 1000R Options, Equipment, and Prices
Select 2013 Can-Am Maverick 1000R Options
When shopping for a car, how important is vehicle performance?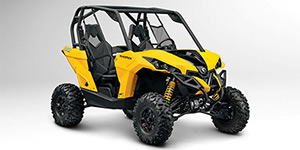 Fast Facts
A brand new product in the Can-Am™ brand line-up in 2013, the Maverick line of utility vehicles are catered to a market seeking sport-oriented off-roading. The 2013 Can-Am™ Maverick arrives in both a 1000 base and 1000 X rs configuration. Built on a highly rigid frame, the 2013 Can-Am™ Maverick has a heavy-duty suspension incorporating Fox Podium X Performance 2.0 HPG piggyback shocks. A 13-inch ground clearance for the 2013 Can-Am™ Maverick insures an ability to hop over deep or rocky paths. Propelled by a powerful Rotax V-Twin engine delivering 101 horsepower, the four-wheel drive 2013 Can-Am™ Maverick rolls on 27-inch Maxxis Bighorn tires and center-less cast-aluminum wheels. Possessing the same 101-horsepower engine, the 2013 Can-Am™ Maverick X rs model includes sharper exterior graphics.
Can-Am Note
MOTORCYCLES/ATVS/UTILITY - For 2007 and older years, see listing under Bombardier.