2013 Arctic Cat 4X4-550 Automatic Limited (Electronic Fuel Injection) Options, Equipment, and Prices
Select 2013 Arctic Cat 4X4-550 Automatic Limited (Electronic Fuel Injection) Options
When shopping for a car, how important is vehicle performance?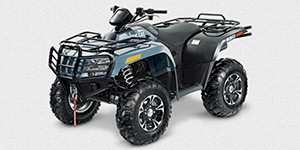 Fast Facts
The 2013 Arctic Cat 550 is a mid-range ATV that introduces a wider scope of four-wheel drive flexibility this year. Based around a 545 cc four-stroke engine, there are now five distinct models of the 2013 Arctic Cat 550 available to off-road riders. For the base model package, the 2013 Arctic Cat 550 Core is equipped with Duro 2 Star Kaden tires, four-wheel hydraulic brakes and an all-digital instrument cluster. For an improved off-roading package, the 2013 Arctic Cat 550 XT is enhanced with power steering, aluminum wheels and a recalibrated suspension system. A 2013 Arctic Cat 550 Limited model is also new providing painted bodywork and a 3,000-pound winch. Both the XT and Limited trim of the 2013 Arctic Cat 550 is available with the TRV line featuring comfortable 2-up seating. An electronic differential lock is also standard on all 2013 Arctic Cat 550 models.
Arctic Cat Note
SNOWMOBILES - Manufacturer will not release missing weight information. Contact manufacturer for weight specifications.