2012 Yamaha YXRFSPB Rhino Sport (4WD) Options, Equipment, and Prices
Select 2012 Yamaha YXRFSPB Rhino Sport (4WD) Options
Would you be interested in knowing the best time to buy a particular car?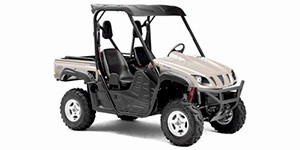 Fast Facts
The 2012 Yamaha Rhino is a simple but highly capable four-wheel drive utility vehicle. Providing utility vehicle buyers with a work-duty and recreational-suited trim level, the 2012 Yamaha Rhino line-up shares many mechanical traits. Constructed on a steel chassis, the 2012 Yamaha Rhino is supported by a fully independent suspension consisting of double A-arms allowing wheel travel up to 7.3 inches. A 12.1-inch ground clearance allows the 201 Yamaha Rhino to clear uneven or rocky trails. An On-Command four-wheel drive system with a 3-way locking differential allows the rider to send power to wheels under the proper conditions. Power to the 2012 Yamaha Rhino 700 FI Auto 4x4's wheels flows from a 686 cc single-cylinder engine. Engine power allows the 2012 Yamaha Rhino to tow an impressive 1,212 pounds of load. The cargo box on the 2012 Yamaha Rhino can accommodate up to 400 pounds. In addition to the base model, the 2012 Yamaha Rhino 700 FI Auto 4x4 Sport Edition is available as a dressed-up version of the utility vehicle. Some features included standard on the 2012 Rhino 700 FI Auto 4x4 Sport Edition includes adjustable piggyback shocks, a plastic roof and cast aluminum wheels.
Yamaha Note
VINTAGE - 1954 - 1960 Due to the rarity of these years and models of Yamaha, pricing data is still being collected.