2012 Vespa Vespa S50 Options, Equipment, and Prices
Select 2012 Vespa Vespa S50 Options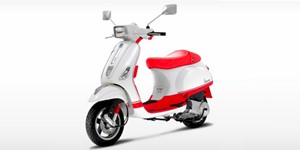 Fast Facts
A product created by one of the most popular names in the commuter scooter marketplace, the 2012 Vespa S is a value-oriented mode of city transportation. Shaped with sheet metal, the 2012 Vespa S adheres closely to classic European styling that has proven classic for decades. Perhaps the most defining features of the 2012 Vespa S is the rectangular headlight. Two models of the Vespa S are offered for 2012. Providing a strong entry-level contender for motor scooter customers, the 2012 Vespa S 50 4V features a carbureted, 49.4 cc four-stroke engine. The economical choice, the 2012 Vespa S 50 4V can travel up to 90 miles on a gallon of gasoline. The 2012 Vespa S 50 4V's 39-mile per hour top speed allows the motor scooter to move effectively through urban areas. The more powerful 2012 Vespa S 150 i.e. is also available with a speed potential of 59 miles per hour. A fuel-injected 150 cc engine powering the 2012 Vespa S 150 i.e generates 11.6 horsepower. Front disc braking, electric start and a "Twist and Go" continuously variable transmission is included standard on the 2012 Vespa S.
Vespa Note
MOTORCYCLES/ATVS/UTILITY - Did not import in 2000. Year on registration denotes model year.
VINTAGE - Pricing information not available at time of printing (see auction results section). 1984 & 1985 Models are not available.