2012 Vespa Vespa LXV150 Options, Equipment, and Prices
Select 2012 Vespa Vespa LXV150 Options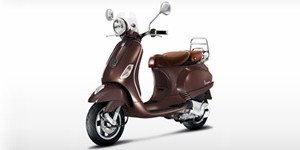 Fast Facts
A Vespa motor scooter with a large emphasis on retro styling, the 2012 LXV is a spiritual retelling of vehicles that roamed European streets in the 1950s and 1960s. Similar to the LX 150 i.e. model, the 2012 Vespa LXV is identified by its headlight and handlebar design as well as the two-piece eco-leather seat. A chrome luggage rack is also found at the back of the 2012 Vespa. The vintage-themed motor scooter is powered by a modern four-stroke powerplant. A single-cylinder 150 cc engine featuring fuel injection, 11.6 horsepower drives the 2012 Vespa LXV 150 i.e. to a maximum speed of 59 miles per hour. Peak fuel economy for the 2012 Vespa LXV 150 i.e. is rated between 70 and 75 miles per gallon. Electric start, front disc braking and a continuously variable transmission are convenient features made possible by 21st century ergonomics. The 2012 Vespa LXV 150 i.e. color choices consist of either Espresso or Portofino Green.
Vespa Note
MOTORCYCLES/ATVS/UTILITY - Did not import in 2000. Year on registration denotes model year.
VINTAGE - Pricing information not available at time of printing (see auction results section). 1984 & 1985 Models are not available.