2012 Vespa Vespa LX50 Options, Equipment, and Prices
Select 2012 Vespa Vespa LX50 Options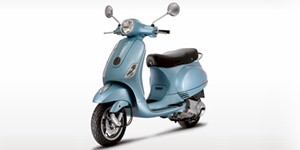 Fast Facts
The Vespa LX was introduced as a tribute for the motor scooter maker's 60th anniversary in 2006. In 2012, the Versa LX remains the personification of classic motor scooter practicality and design. Constructed with a sheet metal body, the 2012 Vespa LX is equipped with a suspension system consisting of a single-sided trailing link at the front. Hydraulic shock absorbers are found on the front and rear wheels of the 2012 Vespa LX. The 2012 Versa LX is available with two four-stroke engine choices. For the entry-level 2012 Vespa LX 50 4V, power is sourced from an air-cooled, carbureted 49.4 cc powerplant. Allowing the 2012 Vespa LX 50 4V to cruise at speeds up to 39 miles per hour, the small four-stroke engine's fuel management is a thrifty 90 miles per gallon. Able to travel up to 59 miles per hour, the 2012 Vespa LX 150 i.e. features a fuel-injected 150 cc engine. Six exterior paint colors are available on both the 2012 Vespa LX 50 4V and LX 150 i.e. motor scooter. The color Volcano Black is exclusively offered on the 2012 Vespa LX 150 i.e. model.
Vespa Note
MOTORCYCLES/ATVS/UTILITY - Did not import in 2000. Year on registration denotes model year.
VINTAGE - Pricing information not available at time of printing (see auction results section). 1984 & 1985 Models are not available.