2012 Suzuki S40 Boulevard Options, Equipment, and Prices
Select 2012 Suzuki S40 Boulevard Options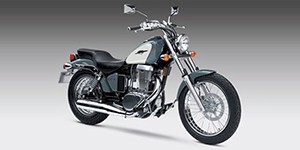 Fast Facts
A line-up appealing to a wide demographic of motorcycle riders, the 2012 Suzuki Boulevard features a wide range of attitudes. With five trim levels available in 2012, the Suzuki Boulevard line presents entry-level to sophisticated custom style products. A value-oriented, single-cylinder powered motorcycle, the 2012 Suzuki Boulevard S40 is available in a pair of two-tone color schemes. Powered by an air-cooled, four-stroke 652 cc engine, the 2012 Suzuki Boulevard S40 features front disc brakes, electric start and a generous use of chrome. Featuring propulsion from a larger 805 cc V-twin fuel-injected engine, the 2012 Suzuki Boulevard C50T provides better cruising performance. Available is the 2012 Suzuki Boulevard C50T Classic and the Suzuki Boulevard C50T that is outfitted with touring bike accessories such as a large windshield, saddlebags and a rear passenger backrest. A well-equipped cruiser motorcycle with a stylish front fairing, the 2012 Suzuki Boulevard M109R features the performance of a 1,383 cc V-Twin engine. The presence of full disc braking and 18-inch wheels makes the Suzuki Boulevard M109R a serious highway motorcycle. Also available is a limited edition model of the Suzuki Boulevard M109R featuring a unique color scheme, clear taillight with red LEDs and a special seat.
Suzuki Note
VINTAGE - 1937 - 1969 Due to the rarity of these years and models of Suzuki, pricing data is still being collected.
2012 Note
In 2012 only curb weight was reported.