2012 Suzuki RM85L2 Options, Equipment, and Prices
Select 2012 Suzuki RM85L2 Options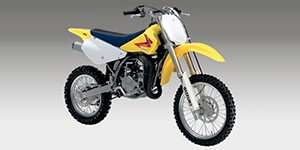 Fast Facts
Designed for young riders wanting to develop their motocross experience, the 2012 Suzuki RM line combines outstanding sport capabilities with an easy-to-maintain vehicle. Propulsion for the 2012 Suzuki RM85 series of motocross bikes is derived from a two-stroke, 85 cc engine. The single-cylinder powerplant driving the 2012 Suzuki RM85 is connected to a six-speed constant mesh gearbox. Weighing 161 pounds, the 2012 Suzuki RM85 base model features 17-inch front and 14-inch rear wheels. With an oil-damped suspension system, the 2012 Suzuki RM85 features 10.8 inches of front wheel travel and 10.9 inches of rear wheel travel. For larger and more experienced riders, the 2012 Suzuki RM85L model is available. Only two pounds heavier than the RM85, the 2012 Suzuki RM85L features larger wheels measuring 19 inches at the front and 16 inches at the rear. Equipped with a 1.3-gallon fuel tank, the 2012 Suzuki RM line-up promises to provide a long day's worth of action on the motocross trail.
Suzuki Note
VINTAGE - 1937 - 1969 Due to the rarity of these years and models of Suzuki, pricing data is still being collected.
2012 Note
In 2012 only curb weight was reported.