2012 Suzuki RM-Z250L2 Options, Equipment, and Prices
Select 2012 Suzuki RM-Z250L2 Options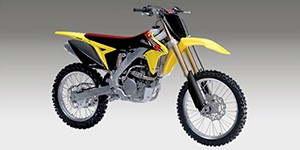 Fast Facts
For serious motocross riding, the 2012 Suzuki RM-Z line are equipped with competition engineered and proven technology. Powered by single-cylinder engines, the 2012 Suzuki RM-Z consists of two models constructed on a twin-spar aluminum frame. The smaller displacement version of the motocross bike, the 2012 Suzuki RM-Z250 model fitted with a 249 cc powerplant running on a battery-less fuel-injection system. Weighing 230 pounds, the 2012 Suzuki RM-Z250 rides aggressively on 47-millimeter Showa front forks and a rear Showa piggyback shock. With the suspension system, the front wheels of the 2012 Suzuki RM-Z250 can move 11.8 inches while the rear wheels can travel 12.1 inches. For greater power, the 2012 Suzuki RM-Z450 features a more aggressive suspension system allowing 12.2 inches of wheel travel at the front and rear. Five-speed transmission, Renthal handlebars, full disc braking and a Champion Yellow paint scheme is included on every 2012 Suzuki RM-Z motocross bike. The 2012 Suzuki RM-Z250 model does provide the availability of new factory graphics.
Suzuki Note
VINTAGE - 1937 - 1969 Due to the rarity of these years and models of Suzuki, pricing data is still being collected.
2012 Note
In 2012 only curb weight was reported.