2012 Suzuki LT-F250L2 Ozark Options, Equipment, and Prices
Select 2012 Suzuki LT-F250L2 Ozark Options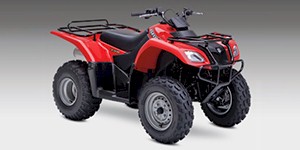 Fast Facts
Existing as a general-duty all-terrain vehicle, the 2012 Suzuki Ozark provides a great value for riders. Offered in Flame Red or Terra Green color schemes, the 2012 Suzuki Ozark features a shape conveying a sport with shaped bodywork and a work-oriented character thanks to a pair of cargo racks. With 8.3 inches of ground clearance, the 2012 Suzuki Ozark rides over off-road with a front independent suspension and a rear swingarm setup. Up to 5.5 inches of wheel travel is permitted with the 2012 Suzuki Ozark's suspension system. Featuring two-wheel drive only, high-traction tires on steel wheels provide ample grip for handling dirt trails. Powering the 2012 Suzuki Ozark 250 is an air-cooled, 246 cc single-cylinder engine. The carbureted, four-stroke powerplant of the 2012 Suzuki Ozark 250 feeds power though a five-speed transmission with an automatic clutch. Halogen headlights, a 2.8-gallon fuel tank and an electric start are standard on the 2012 Suzuki Ozark.
Suzuki Note
VINTAGE - 1937 - 1969 Due to the rarity of these years and models of Suzuki, pricing data is still being collected.
2012 Note
In 2012 only curb weight was reported.