2012 Suzuki GSX-R600L2 Options, Equipment, and Prices
Select 2012 Suzuki GSX-R600L2 Options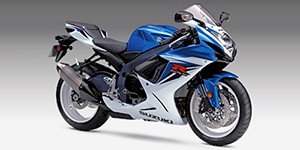 Fast Facts
A class of performance motorcycles, the 2012 Suzuki GSX-R line brings the lessons of racing to the street. Conforming to a slick, aerodynamic shape, the 2012 Suzuki GSX-R offers three levels of four-cylinder engine power featuring electronic fuel injection. Powered by a 599 cc engine, the 2012 Suzuki GSX-R600 is fitted with a 41-millimeter Showa Big Piston Fork front suspension and Brembo Monobloc brakes. Featuring a 750 cc engine and some modern upgrades such as Suzuki Drive Mode Selector, the 2012 Suzuki GSX-R is balanced for handling and top speed. At the top of the line, the 2012 Suzuki GSX-R1000 spins its rear wheels thanks to a 999 cc four-cylinder powerplant. The 2012 Suzuki GSX-R1000 is supported by a lightweight 43-millimeter Showa front fork and a rear shock on an aluminum alloy linkage. A new exhaust system design has allowed the 2012 Suzuki GSX-R1000 to weigh less than the previous model. All three models of the 2012 Suzuki GSX-R processes engine power through a six-speed transmission.
Suzuki Note
VINTAGE - 1937 - 1969 Due to the rarity of these years and models of Suzuki, pricing data is still being collected.
2012 Note
In 2012 only curb weight was reported.