2012 Suzuki DR-Z125L2 Options, Equipment, and Prices
Select 2012 Suzuki DR-Z125L2 Options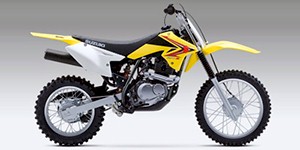 Fast Facts
Suzuki's line of pure off-road motorcycles, the 2012 DR-Z is suited for young riders wishing to gain skill with a serious trail bike. Featuring a Champion Yellow exterior, the 2012 Suzuki DR-Z's styling is inspired by RM-Z competition motorcycles. A lightweight steel frame for the 2012 Suzuki DR-Z presents the toughness to handle hard riding over dirt, rocks or through mud. With a suspension system consisting of front telescopic forks and a rear link-type unit, the 2012 Suzuki DR-Z offers up to 7.1 inches of wheel travel. Powered by a four-stroke powerplant, the 2012 Suzuki DR-Z125 model's 124 cc engine is an air-cooled unit catered for easy maintenance. In addition to the base 2012 Suzuki DR-Z125, a DR-Z125L is available featuring larger wheels and a front braking disc. Both 2012 Suzuki DR-Z machines weigh less than 200 pounds.
Suzuki Note
VINTAGE - 1937 - 1969 Due to the rarity of these years and models of Suzuki, pricing data is still being collected.
2012 Note
In 2012 only curb weight was reported.